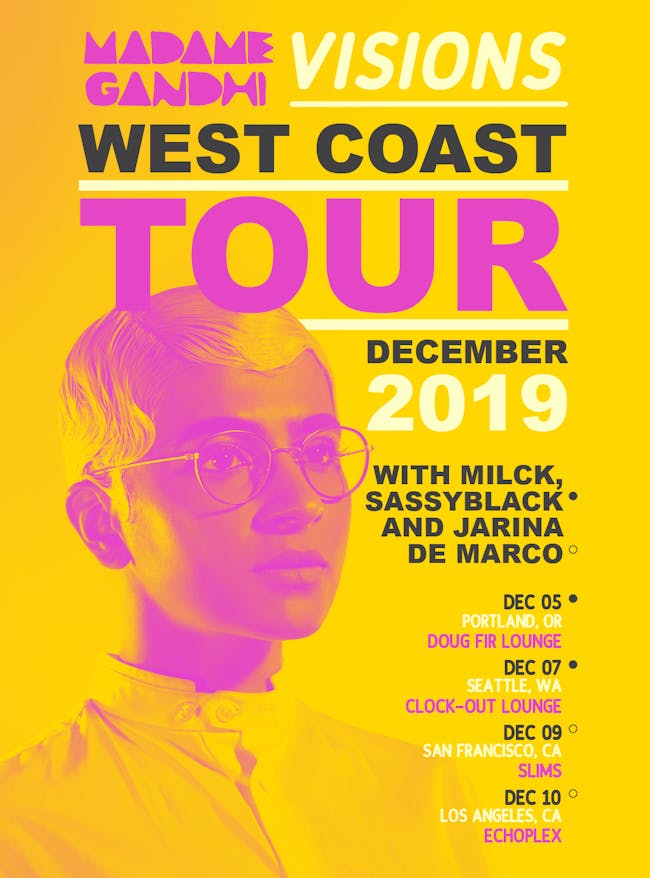 Clock Out Lounge Presents
Madame Gandhi
MILCK, SassyBlack
$15.00 - $18.00
Sales Ended
Madame Gandhi, SassyBlack and MILCK
Madame Gandhi w/
12/7/19 @ 9 PM
$15 advance /$18 day of show
Kiran Gandhi, known by her stage name Madame Gandhi, is an electronic music artist and activist based in Los Angeles. Having gained recognition as the former drummer for M.I.A. and Kehlani and as the iconic free-bleeding runner at the 2015 London Marathon, Madame Gandhi now writes music that elevates and celebrates the female voice.
As each of us travel through life's proverbial galaxies, inevitably we realize we're in search of some combination of sustenance and the sage. And the Seattle-based Afrofuturist musician, SassyBlack, provides both in sonic spades. The intergalactic-minded songwriter and producer, who's traveled the world in performance, offers listeners a 007-style glint in her eye while displaying signature piano licks and drum kicks like a full banquet in her communicative soul.
Connie K. Lim, professionally known as MILCK is a Los Angeles-based singer-songwriter. A child of immigrants from China, she initially performed as an independent artist for several years, and rose to widespread attention after a video of a performance of her song "Quiet" at the 2017 Women's March went viral, and became embraced as an anthem for the movement. She was eventually signed to Atlantic Records, and released her debut EP This Is Not The End in 2018.
Venue Information:
Clock-Out Lounge
4864 Beacon Ave South
Seattle, WA, 98108