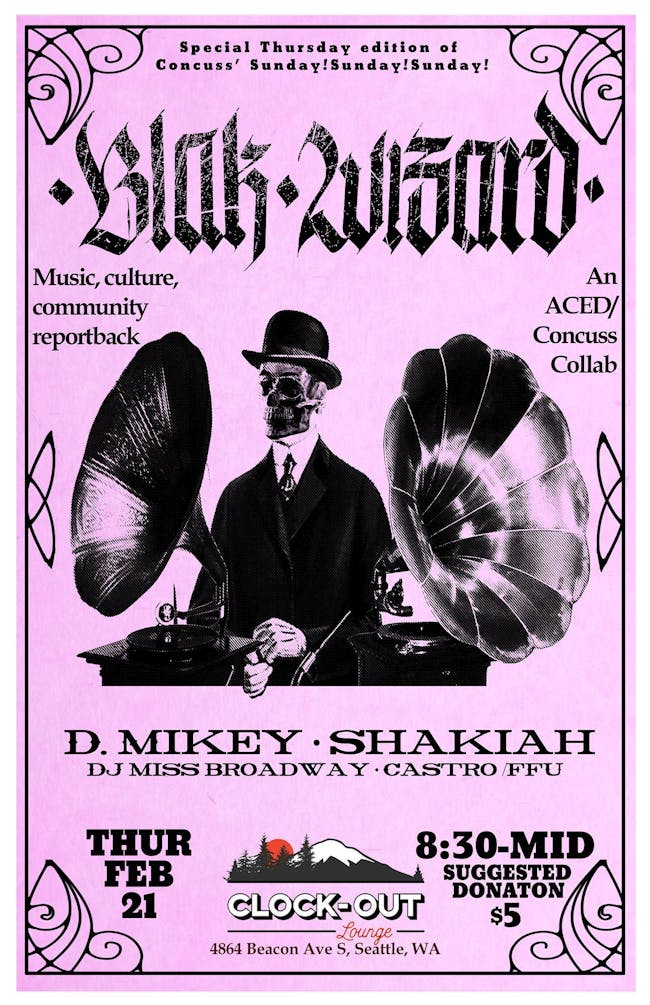 Concuss Showcase
Concuss & Seattle ACED present: RELAUNCH ft. record swap, pop-up, community flash reports, special Radio Concuss episode filming, and live performances by:
Blakwizard-https://youtu.be/KOUT0ObK-oc
From the cauldrons of Concuss, Blak and Specswizard super-collide to catalyze. Two of the most foundational and mythic in Seattle's Hip Hop pantheon are brewing an immersive convergence to disrupt the status quo. The raw, unadulterated music of Blakwizard bends sound, style, and source code across time, space, and dimension- transmitting living legacy.
D. Mikey-https://youtu.be/iyFMLLRgoVI
D. Mikey is a rising star on the bars. He took Seattle by storm with his debut releases from B.O.C. Music, drawing widespread attention and securing a spot on Crane City's top 20 albums of 2018 for his project "Cookie Jar" featuring Micstro and Intylekt.
Shakiah Danielson
Shakiah Danielson is a teaching artist with NW Tap Connection, dancer, choreographer, and one of Seattle's best kept secrets on the microphone. Fierce, poignant, and full of energy, get ready for a powerhouse of a performance.
On the Turntables:
Miss Broadway started deejaying in the mid 90's, hosting two weekly pirate radio shows and rocking parties with records and cassette tapes. She's been mixing records at Seattle dance clubs, weddings, and bars since 1998.
On the Instrumentals:
Rob Castro is the founder of Concuss, graphics design & silkscreen extraordinaire, one half of hERON, beatmaker of Filthy Fingers United, Castro got slaps to serve.
$5 suggested donation 8:30PM doors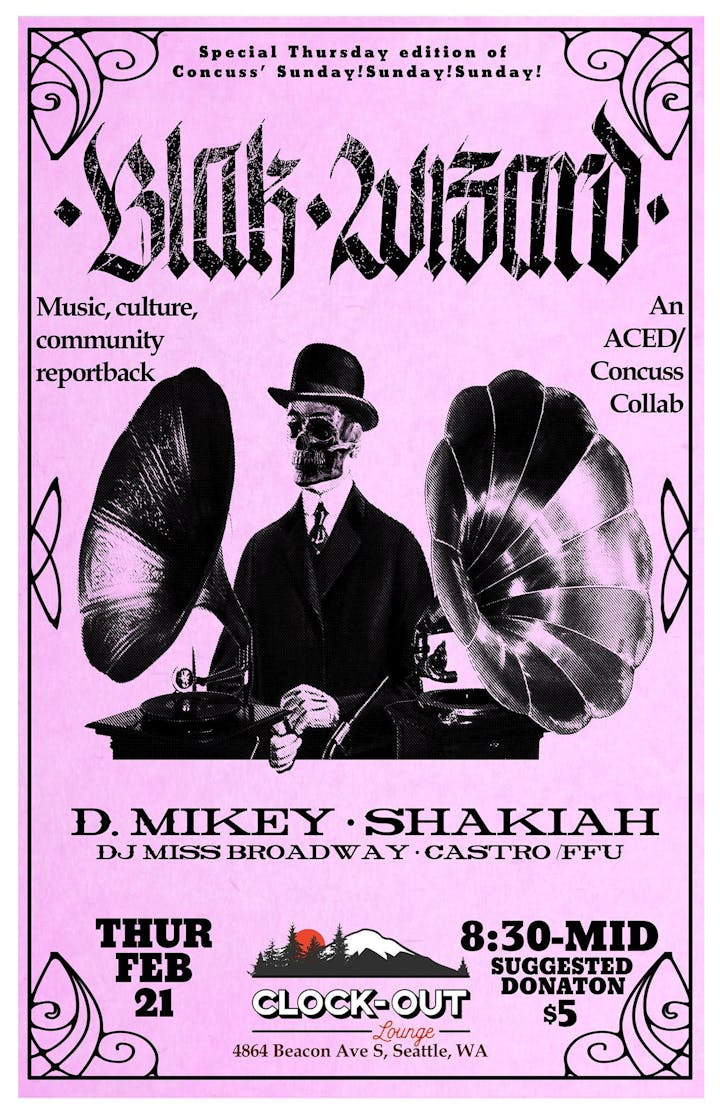 Venue Information:
Clock-Out Lounge
4864 Beacon Ave South
Seattle, WA, 98108